One of the reasons for the popularity of Dynamics 365 Business Central is its availability in the Software as a Service (SaaS) model. Of course, it's also available for deployment in your own IT infrastructure (on-premises), but in this article, we will focus on the online version. Let's talk about bare minimum requirements for Dynamics 365 Business Central in the SaaS version.
Internet Connectivity
The first and essentially decisive aspect in determining whether Business Central in the SaaS version is suitable for your company is internet connectivity. To put it bluntly, if there is no connection or there are network availability issues, the online ERP system will not be viable. In such case, an on-premises system would be a better solution. It requires a more in-depth analysis and consideration of additional licenses, such as for the server (Windows Server Standard or Datacenter), but it can be considered as an alternative. Detailed requirements are described on the manufacturer's website, covering client application issues, server requirements, and those related to integrations with Dataverse, Dynamics 365 Sales, or cloud services included in Microsoft 365.
When internet connectivity is not a problem, it is worth verifying its speed and bandwidth. According to Microsoft's documentation, for most scenarios, a sufficient value is 1 MB/s, although higher values are recommended. Every organization is different, equipped with different hardware, and accumulates and processes varying amounts of data, so these requirements may vary. For businesses with substantial data growth, it is suggested to have an internet connection speed of at least 100 megabits per second (12.5 MB/s). In today's times, this is not a value that can be considered excessive. Additionally, although not obligatory, it's worth considering a backup connection that will provide continuity of business operations in case of downtime with the primary internet provider.
Web Browsers
Another important aspect is web browsers in their latest versions. Supported browsers for Dynamics 365 Business Central include:
Microsoft Edge
Chrome for Windows
Firefox for Windows
Safari (on macOS devices)
Additionally, installing a dedicated application from the Edge or Chrome browser is worth consideration. It allows using Business Central in a separate window, enabling integration with Windows system features.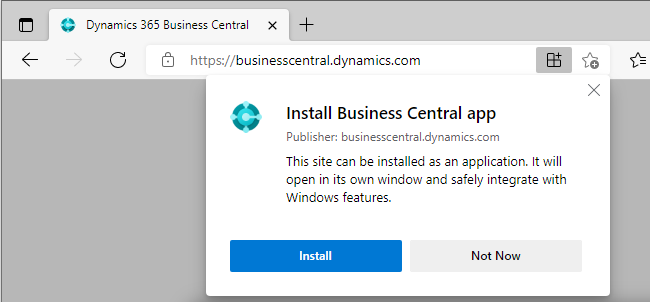 Mobile Devices
There are situations where we need to use the ERP system when away from computer. In such cases, mobile devices - tablets and smartphones - come to the rescue, as you can install the Business Central application on them. What are the system requirements for these devices?
For Android devices: one of the three latest major versions of the operating system.
For iOS devices (iPad and iPhone): one of the three latest major versions of the operating system.
Integration with Microsoft 365
Sooner or later, the aspect of integrating the ERP system with cloud services included in Microsoft 365 will come up. Although this solution is not needed for using Business Central online, our experiences from conducted implementations clearly indicate that every client eventually asks for it. Therefore, during the licensing and training evaluation stage, we take into account aspects related to Microsoft 365. This is also one of the reasons for choosing Business Central, which allows users to:
Add contacts from the Outlook email client.
Verify past cooperation (e.g., pending payments, overdue invoices, the previous transaction value) within Outlook.
Prepare a sales order, convert it into an offer, send it to the customer, then issue and send an invoice - all from within Outlook.
Conduct the procurement process from purchase order to purchase invoice.
Mass edit data and publish it in the system using Excel or Excel Online.
Use the ERP system from within Microsoft Teams.
Search for Business Central contacts in the Teams application.
Share data from lists and records with users who do not use the system (Teams).
Edit information from within cards in Teams.
Create custom applications in Power Apps that extend the functionality of Business Central (e.g., a time tracking application).
Define document approval processes, e.g., for invoices (Power Automate).
Of course, to perform all of the above actions, we need a Microsoft 365 plan that includes cloud services (the cheapest option, Microsoft 365 Business Basic, is sufficient). In some cases - when the scenario is a bit more complex - dedicated licenses for Power Apps, Power Automate, or Power BI may be required. However, this does not change the fact that in scenarios where we integrate with desktop applications (Outlook, Teams, Excel), they must meet specific requirements:
Excel: version 2019 or later (preferably the most current).
Outlook: version 2019 or later (preferably the most current). It's important to remember that Outlook is an email client - a program we use, and we can add various email accounts to it. The entire integration is carried out through Microsoft's mail servers, i.e., Exchange Online. Therefore, our email must be configured to be handled by Exchange Online (Exchange Server does not provide integration).
Teams: the most current version of the Windows client. Moreover, it must be Teams included in a Microsoft 365 subscription from the Business or Enterprise family - integration is not possible with Teams Free or Teams Essentials.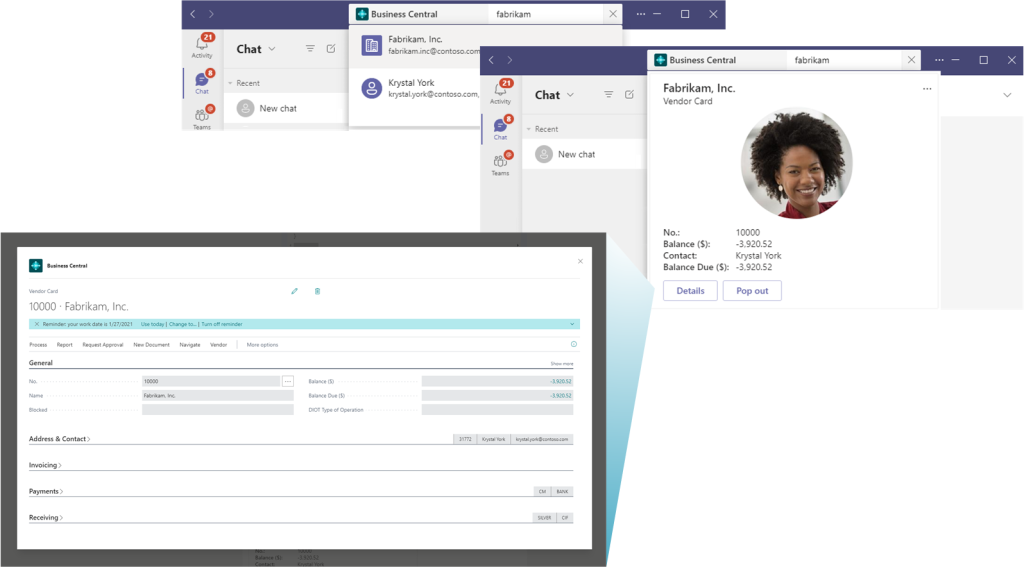 Dynamics 365 Business Central online is the future
Until now, implementing an ERP system was commonly associated with a complicated, multifaceted, and demanding endeavor. However, by introducing Business Central in the online version (SaaS) to the market, Microsoft showed that it doesn't have to be that way at all. In exchange for a subscription fee, you immediately gain access to a premium-class tool with a straightforward configuration. You don't have to worry about server-related matters, their maintenance and administration, or later - mostly manual - solution updates. To expand the system's functionality, you can use third-party tools or even build your own application in Power Apps. Throughout all of this, it's important to remember the minimum requirements mentioned above that need to be met for Business Central in the online version to run smoothly without downtime. It's worth checking them during the pre-implementation analysis stage to make the right decision regarding the deployment model for your company. Additionally, it's a good idea to keep the backup connection in mind, which will allow you to become independent of a single internet provider and have a backup in place, as it's easy to forget about it when using cloud services.
Are you in the process of choosing an ERP system for your company? Do you need advice and support in selecting the right solution? Are you considering Dynamics 365 Business Central in the online version but are unsure if your organization meets the minimum system requirements? If you have any doubts, please contact us via the form and arrange a free consultation so that we can address them and provide proper guidance.