Production
The Dynamics 365 Business Central ERP system, enriched with dedicated and innovative solutions, meets the most important needs of the manufacturing industry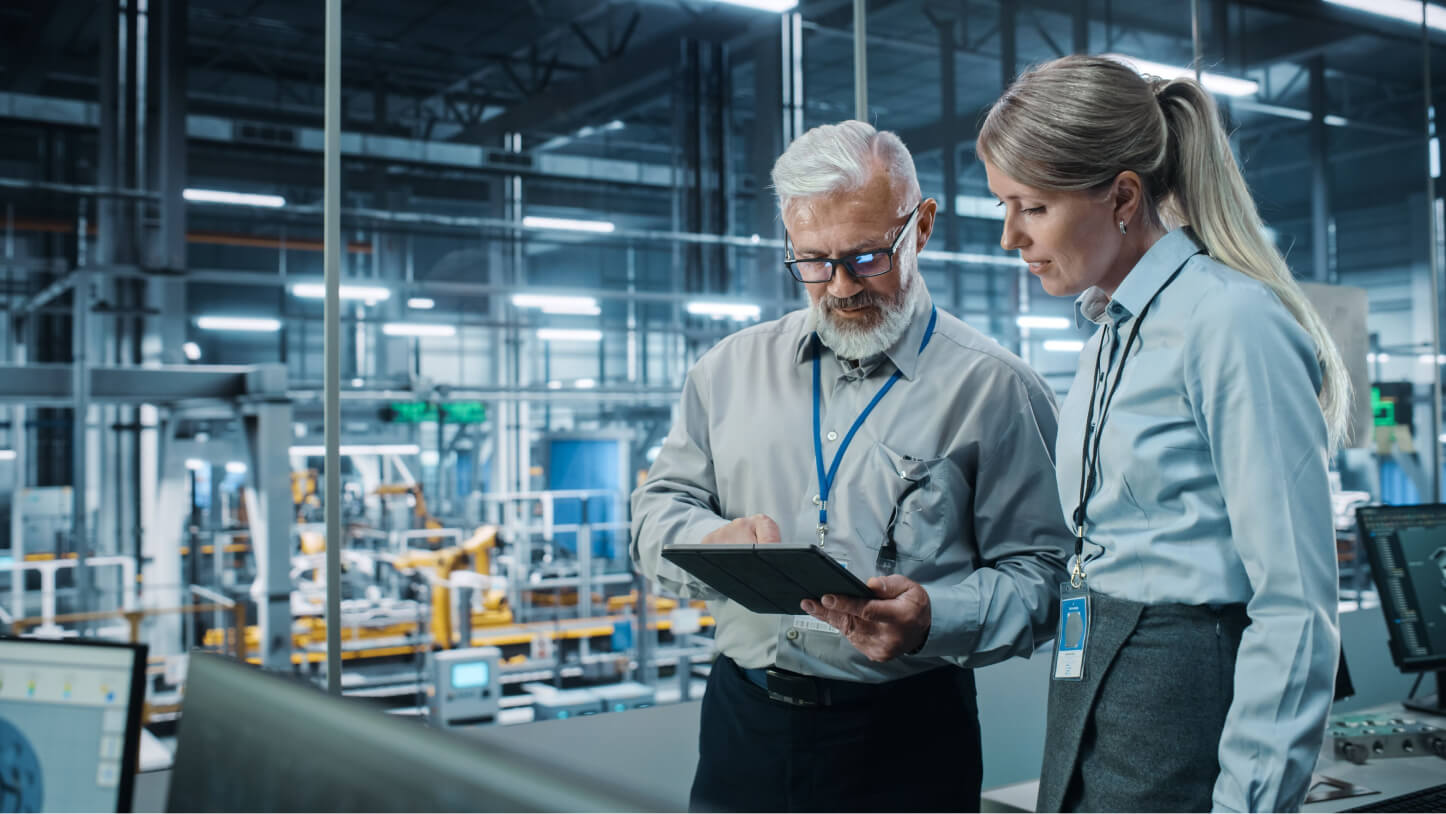 We understand how challenging the manufacturing industry can be
Based on the experience we have gained, during the implementation Business Central in manufacturing companies, we are well aware of what the most common problems and challenges are in this sector.
We have managed to solve many of these problems by implementing appropriate IT systems. Dynamics 365 Business Central together with the entire family of Microsoft products and proprietary supplementary solutions, allows for effective management of production companies.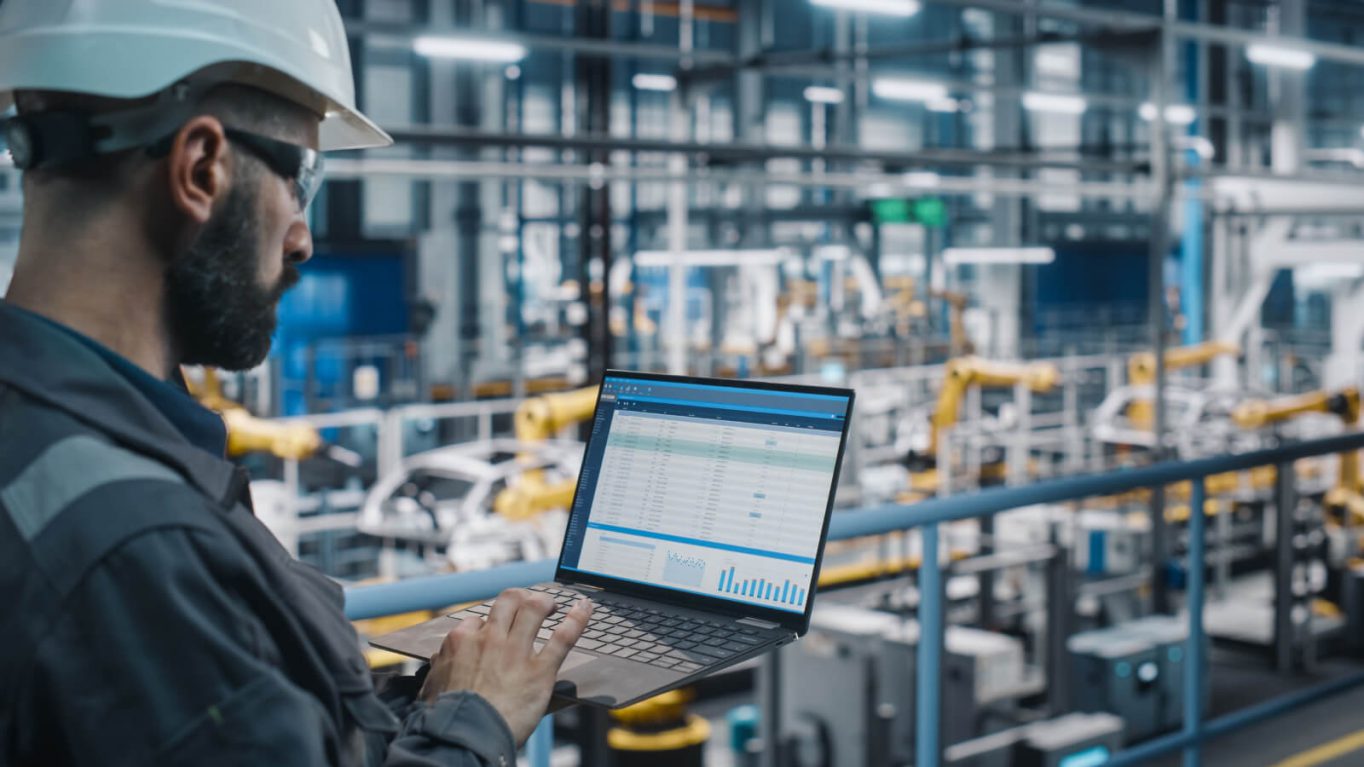 See how you can solve the most common production management problems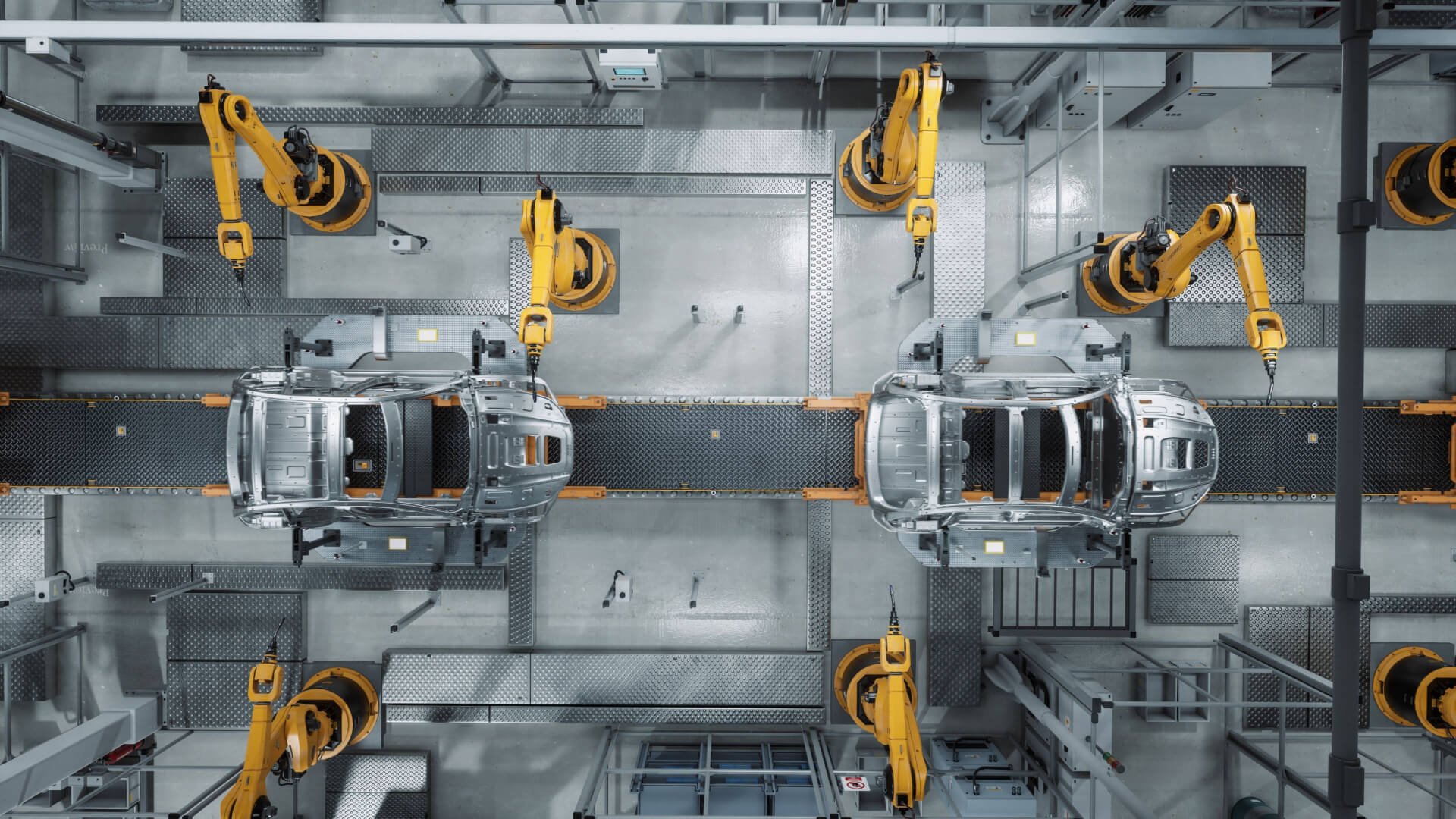 Problem
I would like to monitor the progress of the production process as soon as possible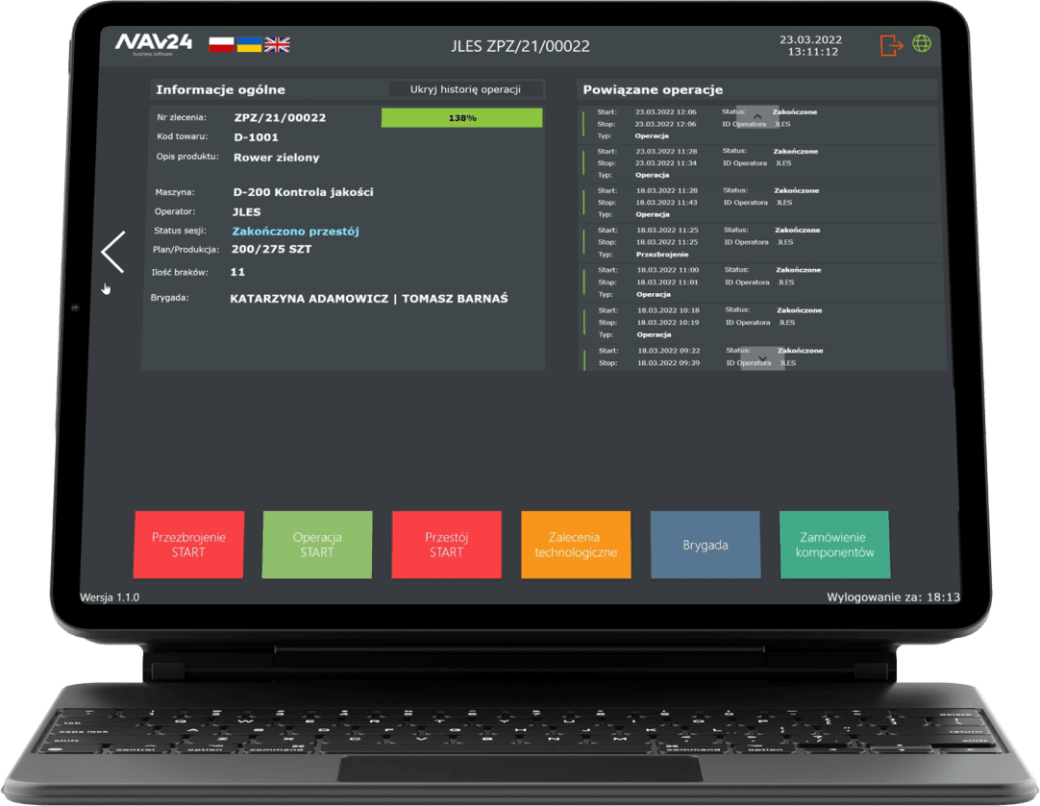 Our proprietary solution for recording production data - NAV24 Production panel - allows you to collect production data, such as: operation time, changeover time, produced quantity and shortages, directly from the production hall.
1 I need to monitor the progress of the production process on a continual basis.
The NAV24 production panel is our proprietary solution for recording production data. It allows you to gather production data
2 My problem is connected with estimating the actual cost of finished products and, as a result, determining the appropriate selling price.
The Business Central system makes it possible to define the quantitative, and material cost, of the product through a bill of materials (BOM). A description of the technological process is also taken into account, as is data obtained through the MES class system (NAV24 production panel). Combining all of these sources provides you with accurate calculations of the cost of manufacturing, and the finished product.
3 I would like to know at what stages production rejects occur, what their quantities are and the cost for a given product.
The combination of Business Central's functionality with the capabilities of the Production Panel, and the report of production shortages, creates a complete solution that allows full control of production shortages.
4 I would like to know the time and reasons for downtime in production, as this affects the assessment of resource efficiency.
The Dynamics 365 system, incorporated with the Production Panel application, allows you to record and monitor downtime, along with the reasons for it.
5 I want to increase production, but I do not know what the efficiency and availability of my machinery and human resources are.
The production management functionality allows the manufacturing process to be defined, taking into account work centers, tools and human resources. Depending on your requirements, advice will be provided on which tool to use for scheduling and optimisiion of the production plan (product structure, product route, work centers with calendars, production planning sheet, etc).
6 I want to plan material purchases effectively.
Business Central has an inventory management policy functionality (planning sheet and requisition sheet) that allows you to generate specific requests for the purchase of materials. This function will take into consideration the required time and quantity. Business Intelligence reports will also provide further analysis.
7 My current employee onboarding process is time-consuming.
Intuitive and familiar from other Microsoft applications, the way of operating the system, the security system and hints, together with tools allowing for efficient and friendly data registration in the system, enable quick introduction of new employees to the implementation of processes.
8 Implementing a new production process is time-consuming.
Standardisation of production processes definitions (material structures, production BOMs, routing and workstations), along with their planning and cost parameters, enable products to be defined quickly. Integrated production planning, as well as dedicated tools for ongoing registration of production events (quantities, times, costs, etc.) significantly improve, and accelerate, the time of execution for a new process or implementation product
How is the implementation carried out?
Depending on the size of your business, and the degree of advancement of company processes. We recommend one of the following types of implementations:
1

Fast implementation
Which companies would benefit from this service?For small and medium sized companies in the manufacturing industry that do not have an ERP system, or their current ERP system does not meet their expectations. Fast implementations are also suitable for clients who are planning to change their deployment partner (due to dissatisfaction, etc). What is fast implementation ? We have enriched the standard Business Central solution with a number of functionalities created for the design industry. Why should you use this service? By running the version without modifications, users quickly learn how the system works and the possibilities that connectivity between individual elements of the Microsoft ecosystem brings. The flexibility of this solution allows you to adjust the configuration to the current requirements of your company. If your business grows over time, or you find that you need system changes, we can implement subsequent Business Central modules or system modifications, according to your needs.
Find out more about the Manufacturing Box
2

Customised Implementation
Who would benefit from this service?This service is for companies that already use the ERP system, but need to modify and integrate with other systems. How is a customised implementation carried out? We start the project with an in-depth analysis, based on which we define its scope, duration and budget. Implementation is preceded by a design phase, identification of appropriate components, development of interfaces and data migration processes, preparation of configuration and the necessary tests are executed. After transferring the processes to the new system, we perform the final tests and train key users. Why should you use this service? You will obtain an ERP system perfectly adapted to the needs of your company. Individually selected modifications will correspond to your company's unique design processes.
Find out more
What's next? Choose your next step
Check what you need to know before implementing an ERP system in a manufacturing company
Our production management expert has prepared a list of questions that will help identify production needs in the context of ERP system implementation in your company. We are more than happy to help, should you need more specific information regarding, among other topics:
Inventory management for planning production material supply, organising this process and incorporating data into the ERP system
Warehouse management of products, planning and scheduling of order queues on work centers, allowing for the efficiency, and availability, of individual work centers and machines,
How to register and monitor the production process,
Materials and calculation of production costs,
Records and settlement of costs and a breakdown of these costs in finished products,
Production analysis, with an emphasis on comparing planning with execution, along with reviewing the status of production orders, etc.
Make an appointment for a free, no obligation consultation and our specialist will propose a suitable solution for your company.
Would you like to discuss implementing Microsoft products for your production company?
Want to learn more about how Microsoft solutions can help your manufacturing business? Make an appointment for a free, no obligation consultation, during which our specialist will diagnose the situation in your company and propose an appropriate solution.
Show phone...